For the first time in the history of the Esports World Championship, a mobile game has been selected as an esports discipline. Available on app stores worldwide, Monster Strike is a Hunting Action RPG game optimized for smartphones.
Monster Strike Stadium, a companion app specialized for competitions, was used during Monster Strike's demonstration at the championship. Players competed in real-time 4-on-4 battles with the faster team emerging victorious.
In the final game, "JAPAN RED" won with
"JAPAN BLUE" coming in a close second. Medals were awarded by IESF President, Colin Webster.
But it was not just MONSTER STRIKE that was held as a demonstration title,

before the opening and the final game,

"XFLAG PARK" made its world debut.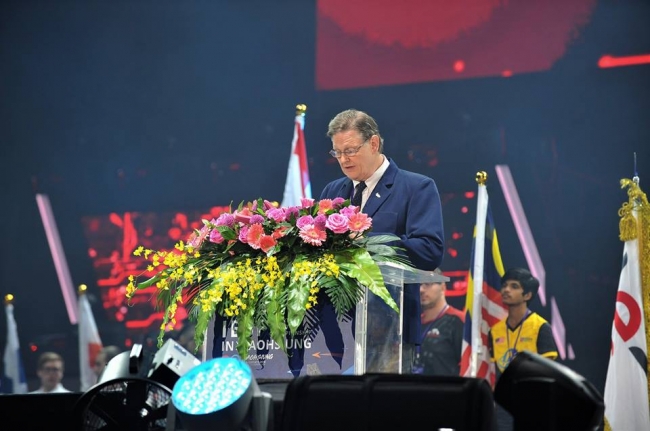 IESF President, Colin Webster enthusiastically stated, "
In my opinion, it is vital to have esports game titles of the highest caliber, as demonstration titles at every Esports World Championships to further promote and develop new titles for the inclusion as main line events at IESF World Championships. IESF is proud to have Mixi's 'Monster Strike' as a 2018 demonstration title. The game is not only fun to play, but enthralled the spectators. IESF looks forward to working in closer relationship in the future with Mixi".
■ Monster Strike App Description
Game name: Monst Stadium
Category: Game (Action RPG)
Playing fee: Free
compatible model (OS):
【iOS】 iOS 6.0 or later
【Android】 Android 4.0.3 or later (with partially deprecated terminal)
https: // www .monster-strike.com / news / 20160223_1.html
How to use: Search "Monst Stadium" at each store
Game download URL:
【iOS】
https://itunes.apple.com/jp/app/id959456987
【Android】
https : //play.google.com/store/apps/details? id = jp.co.mixi.monsterstrike_stadium
■ Mixi Group <mixi.co.jp>
Since its founding in 1997, the Mixi Group has
introduced
SNS "mixi" and a smartphone application "Monster Strike", etc. We have provided communication services to enjoy with friends and family members.
We are striving to create better communication by envisioning the future where people's lives become more enriched and promoting businesses and services that encourage communication revitalization from the aspect of IT.
■ XFLAG ™ Studio <xflag.com>
In August 2015, in order to further develop the entertainment business, we established the XFLAG ™ studio in MIKUSHI CO., LTD.
At the XFLAG studio, in addition to offering "Monster Strike" and "Fight League" with "Slogan" as a slogan, "Distance of adrenaline", Dokidoki exciting game and video contents are disseminated to the world To go.
"Mixi", "mixi", mixi logo, "XFLAG", XFLAG logo, "Monster strike", "Monst", "MONSTER STRIKE", "Fight League", "Fight League" Is a trademark.
Company names, services and product names of each company are trademarks or registered trademarks owned by their respective companies.